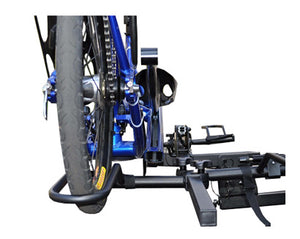 The Hollywood HR1450R Sport Rider Heavy Duty Recumbent hitch rack is a platform-style bike rack that fits 2-inch hitches ONLY.  This rack will carry either two ElliptiGO bikes or one ElliptiGO bike and one traditional bicycle.  To use this frack for the ElliptiGO, the front wheel must be removed.  This rack comes with two fork mounts that are used to secure the ElliptiGO to the rack.  Fork mounts are required for use for the ElliptiGO bike.  Before purchasing this hitch rack, we highly recommend checking with your car manufacturer to determine whether your car will accept a hitch receiver.  Visit this page of the Hollywood Racks website to see if the HR1450R will fit your vehicle.  Also, we have found that the hitch rack is not compatible with some SUVs with swing-gate rear doors, SUVs with external spare tires on rear doors as well as some RVs and campers.  If you have any doubts about whether the hitch rack will work with your vehicle, please do not hesitate to contact us so we can figure it out.
The rack folds easily when not in use and has Velcro wheel straps for added security to the rear wheel. Please view the assembly video for the HR1450R. 
This video will cover installing and modifying the fork mounts and ElliptiGO bike to fit the hitch rack.The HR1450R is the correct size rack for all ElliptiGO bike models. "R" stands for recumbent in length. Using the HR1450 will NOT fit ElliptiGO bikes.
Compatible with all models 
For assembly installation instructions, please 
view our video
. 
For instructions on attaching the fork mounts, please 
view our video
.