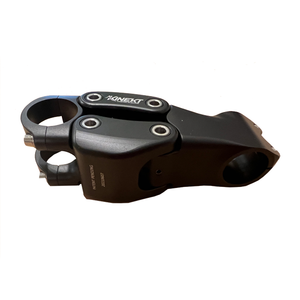 Redshift Sports Shockstop Suspension Stem in 120mm and includes handlebar shim and 5 elastomers.
Add more comfort to your ride! The patent-pending ShockStop Suspension Stem smooths out road imperfections, reducing fatigue and strain. The stem will act as a suspension for your arms and allow for better control over bumps and into turns.
The package includes a handlebar shim for ElliptiGO riser handlebar clamp size 24.5mm and 5 elastomers. The 5 elastomers allow for varying degrees of stiffness according to a rider's preference on suspension feel: the higher the number, the stiffer the feel. Please note, this stem comes pre-installed for ElliptiGO riders with the softer elastomer number 50 (yellow).
We recommend the 90mm stem for use with your Arc or SUB Models and the 120mm stem for use with your Long-Stride Bikes.
For more information about the Shockstop Suspension Stem, please visit their website here.
For a video demonstration on how to install the stem on your ElliptiGO bike, please view here.